If you have installed the Affiliatebooster premium plugin, and still not getting the premium blocks in the editor. Are you seeing the free blocks like this?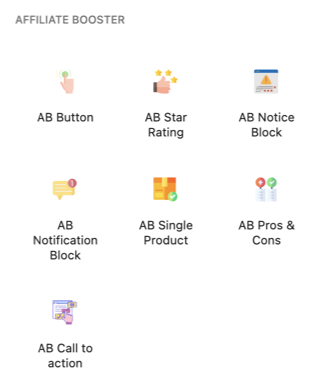 Here is the process you should try this fix.
Note: Check that plugin and license both are activated.
Step 1: Clear cache files
Step 2: Check-in incognito mode
The biggest reason of this issue is Cache. If you are using any cache plugin, just check your settings and clear the cache.
If you are still not able to see the blocks, open an incognito browser tab or open your site in a different browser itself.
There are 99% chances that you'll see all of the blocks after doing these activities.
Note: Some hosting like WPX and CloudWays have server cache. So login in your account and clear the cache from server side to get rid of this issue.
If you are still not able to find them, please raise the support ticket.
Also Check: How to activate Plugin and Theme properly?
Also Check: Debug Issues with AffiliateBooster Plugin